And Action - ten lockdown tennis movies
Looks like the lockdown will be continuing a while longer. Still that means plenty of time to catch up with virtual tennis. Here are our suggestions for off-court tennis home entertainment, starting this week with ten tennis movies worth catching.
Every now and again someone writes an article about tennis movies and usually, in the past at any rate, it is to say how bad they are. But the release of Borg vs McEnroe and Battle of the Sexes in 2017 changed all that. With time on our hands, what better moment than now to reassess the entire tennis-movie genre? Here are our ten worth streaming. (Next week, we will look at the documentaries.)
1
Battle of the Sexes, 2017
Stars Emma Stone and Steve Carell as Billie Jean King and Bobby Riggs.
Why we like it: This is not only a smashing tennis movie, but it is genuinely important, telling the much more complicated than usually acknowledged story of Billie Jean King's role in the emancipation of tennis (and all sport, for that matter), in an engaging, nuanced way. Shocking that it was a relative box-office flop.
Tennis rating: 9/10 Whether in the locker room, or on court, the tennis action is believable with good use of pro-players as body doubles.
2
Strangers on a Train, 1957
Master of suspense Alfred Hitchcock directs, Raymond Chandler writes the screenplay (adapted from a Patricia Highsmith novel). What could go wrong? Nothing.
Why we like it: A genuine Hitchcock classic and while it is no more a tennis-fan's movie that it is a trainspotter's, it tells us something about the post-war life of a tennis-pro that would be hard to glean from a history book.
Tennis rating: 8/10 A little stagey perhaps, but Hitch knew what he was doing (he changed the job of the central character from a young architect featured in the book to a tennis player) finding a way to use the suspense of a tennis as a metaphor for angst in the real world and in doing so pin-pointing a truth about every match - it's an elemental battle!
3
Borg vs McEnroe, 2017
Following the success of Rush which told the story of the rivalry between racing drivers Niki Lauda and James Hunt, could the relationship between Bjorn Borg and John McEnroe be similarly successful? Almost, it turned out.
Why we like it: It's a reminder that not all great tennis rivalries need to be as wholesome as Federer vs Nadal, and when it comes to it there is nothing like a Wimbledon final to make epoch-defining tennis history.And for those amazing period costumes.
Tennis rating: 8/10. Not least for the brave full 20 minutes dedicated to recreating the 1980 Wimbledon final. That said, John McEnroe damned the film as "inaccurate" and "not very good". 
4
Annie Hall, 1977
It's more than 40 years old, but this is still a masterpiece and it opens with a tennis encounter between Diane Keaton and Woody Allen that sets up the film and, despite the wooden rackets, still rings true today.
Why we like it: If you have ever felt socially awkward on a tennis court then you you will appreciate how Allen nails it here. It is also nice to celebrate Allen's love of our sport in this seminal film rather than rely on the almost unwatchable "Match Point".
Tennis rating: 8/10 The awkward squad on court to a tee.
5
7 Days in Hell
Just in case you were ever tempted to take tennis too seriously, this is a totally nuts mock-umetary focusing on a Isner-Mahut-style longest match between an Agassi/McEnroe-esque tennis bad boy and an English twit played by Kit Harington.
Why we like it: Er... because we we never grew up and never got over underwear jokes? And because if you are ever bored watching it there is so much entertainment to be had in wondering how it ever got made in the first place. That, and for a few moments of comic genius.
Tennis rating: 2/10. Listen, if this film reflected real-life tennis in any meaningful way we would all need to be seriously worried.
 
6
School for Scoundrels, 1960
It's that image of the great Terry Thomas at the net that sticks in the mind and while it may not be the best of the Ealing Comedies, it is the only film, of all those listed here, that will probably help you win some matches.
Why we like it: That Terry Thomas image of course and because the film was inspired by Stephen Potter's classic guides to Oneupmanship and Gamesmanship - basically how to get the upper hand over your opponent without actually cheating (Potter's original Gamesmanship book was itself inspired by tennis).
Tennis rating: 8/10 Not that you play tennis this way, but if you are a Winning Ugly fan (Brad Gilbert's manual for besting better opponents) you will love this essential companion.
7
Wimbledon, 2004
It was supposed to follow in the footsteps of Nottinghill, bringing romance to the tennis court in the way Richard Curtis has gifted it to bookshops. But as you know, love all means something different in tennis.
Why we like it (nevertheless): Because the world was younger and Wimbledon was actually happening that year (the tennis scenes were filmed at the All England Club!). Bathed in the warm glow of nostalgia, we think we might warm to its stars Paul Bettany and Kirsten Dunst in a way we never did first time round. Plus, it used so many extras from in and around Wimbledon, we suspect a good number of Local Tennis League players had cameos!
Tennis rating: 6/10 For every authentic setting, there is a wonderfully inauthentic forehand.
8
Blow-uP, 1966
Italian director Michelangelo Antonioni's first fim in English, an existentialist drug-influenced thriller (of sorts) starring David Hemmings.
Why we like it: Because it is so damned weird and it culminates (as no other film does) in a tennis match between white-faced mimes in a London park (Maryon Park, just south of the river).
Tennis rating: 1/10, but as a commentary on tennis and social distancing it will probably never be beaten.
9
Break point, 2015
Break out the beers, here's a tennis movie there is no need to take seriously.
Why we like it: Because it is not as bad as some will tell you. If you have over-indulged a bit in lockdown and are just a tad worried about your own tennis comeback you will empathise with Jeremy Sisto playing a down and nearly out pro who hopes he can persuade his younger brother to team up with him in doubles. Made us laugh.
Tennis rating: 6/10 Because there is a lot of tennis in the fim. Had they taken the on-court scenes a little more seriously, it would have been even more fun.
10
TOM AND JERRY TENNIS CHUMPS, 1949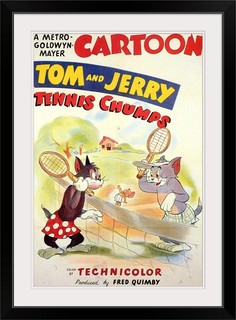 Don't be mislead by the genteel poster, this 46th outing for Tom and Jerry is a super-violent depiction of a brutal on-court cat-fight
.
Why we like it: Because Tom and Jerry were the creations of William Hanna and Joseph Barbera, the animators who gave us Yogi Bear and the Flinstones.Why wouldn't they have wanted to depict tennis in their work? We know Joseph had a tennis court in his Hollywood home and we like to imagine that the geniuses might be acing each other in Heaven even now.
Tennis rating: 5/10 This tennis is so aggressive not even Nick Kyrgios could live with the pace. Seriously, it's a wonder that the kids growing up with this didn't go on to destroy the planet (oh yes, so they did).